COMUNICATI STAMPA DALLA CORSA

ARREDONDO RULES STAGE 18
JULIAN ARREDONDO WINS THE STAGE 18 SUMMIT FINISH AT THE GIRO D'ITALIA WITH A STRONG TEAM EFFORT FROM TREK FACTORY RACING
Levico Terme (Trento), 29 MAY 2014 - It was a formidable ride from Trek Factory Racing's Colombian climber as he attacked to create the day's principal breakaway on the first ascent of Passo San Pellegrino. He then went on to win the category one mountain points at the top, followed by claiming full points on the successive category two climb, before stamping his name as the day's champion at the top of the summit finish – it was an awe-inspiring victory.
"I have to give a big thanks to my director and coach Josu [Larrazabal]. I wanted to attack at the bottom of the last climb but he told me from the team car, 'no, no no! take it easy, not yet!' Then with four kilometers to go he said, 'Julian now!' I won this stage to a great degree from his advice."
- Julian Arredondo
Trek Factory Racing has been knocking on victory's door at this year's Giro, finishing second on four occasions; finally the elusive win arrived as the three week tour entered its final days.
"It was a very strong break with good riders. Julian was calm at the end. We asked him to wait until last 4k and then when he goes, go full gas. We were four times so close so he deserved the win, the team deserved the win - this win is the win of the team. It is a really nice way to finish the Giro in the last week."
- Josu Larrazabal
Julian Arredondo won all three mountain climbs of the 171-kilometer race and put a serious hold on the mountains competition with only two more climbing stages remaining.
"We knew that if Julian could be in the break to fight for the blue jersey that he would also stand a chance at a stage win. So that was the goal, and the team did a great job to help Julian get in the break. The valley was long before San Pellegrino and the others like Eugenio [Alafaci], Boy [van Poppel], and Fumy [Beppu] did a great job to keep him in good position so he could jump on the climb. It was teamwork to get him in the break."
- Josu Larrazabal
Behind the breakaway the maglia rosa group was fighting a different - albeit just as captivating - battle. Robert Kiserlvoski once again showed his strong proficiency in the mountains and battled to finish 19th on the stage, just over 30 seconds behind race leader Nairo Quintana (Movistar). He continues to hold on to 10th overall. While most of the GC positions remained the same, Cadel Evans lost his grip on third overall and slipped to 9th.
Julian Arredondo won the combativity prize for the stage, and also leads the combativity competition. With a firm hold on the blue jersey after today - an 86-point lead over second placed Dario Caltaldo of Team Sky - he is posed to take home the mountains classification in two day's time. Tomorrow's mountain time trial will offer points at the finish, and the successive stage 20 will be his final test before he can lay claim to the prestigious maglia azzurra.
To top off a stellar team effort, and a well-deserved team victory, Trek Factory Racing claimed first place in the team classification for today's stage.
"I felt good today. I thought it could be my day. After all the difficult moments in this race - like two days ago over the Stelvio when Josu had to put me in the car to warm me up – and being in Italy away from home the last six years, this stage has repaid all my hard work. Today is the beginning, I hope, of great things for me. I want to dedicate this win to Josu, and to my team who stayed around me at all the difficult moments. We are very much a family."
- Julian Arredondo
Fabio Duarte cuor di leone a Rifugio Panarotta
Levico Terme (Trento), 29 maggio 2014 - Un'altra tappa di montagna vissuta con il cuore in gola dal Team Colombia e tutti i suoi supporter ha visto Fabio Duarte centrare un nuovo secondo posto in questa edizione del Giro d'Italia, questa volta sull'arrivo in quota di Rifugio Panarotta. Sotto gli occhi del Direttore di Coldeportes e Ministro dello Sport colombiano Andres Botero, Duarte si è fermato ad appena 17 secondi dal successo, finito nelle mani di Julian Arredondo (Trek). La festa tutta colombiana è completata da Nairo Quintana (Movistar) che ha conservato la maglia rosa di leader della classifica generale.
La prima ascesa di giornata, il Passo San Pellegrino, ha propiziato la formazione dell'azione di giornata: un gruppo forte 14 uomini – fra i quali Duarte, Arredondo, Franco Pellizotti (Androni Giocattoli), Dario Cataldo (Team Sky) e Ivan Basso (Cannondale), è riuscito a guadagnare terreno sul gruppo condotto dalla Movistar, accumulando un vantaggio massimo di 7 minuti e giungendo ai piedi dell'ascesa decisiva verso Rifugio Panarotta con quasi 5 minuti di margine.
Il primo a rompere gli indugi è stato il belga De Gendt, a cui qualche chilometro dopo hanno risposto a più riprese Arredondo, Duarte, Pellizotti, Cataldo e Deignan. Dopo un attacco di Pellizotti a 4 km dal termine, risposto da Duarte e Arredondo, quest'ultimo ha effettuato una nuova accelerazione, con il solo Duarte a inseguirlo. Tre chilometri di cronoscalata individuale, con Duarte a dare tutto nel tentativo di riagganciare il connazionale, a sua volta giunto stremato sul traguardo.
Un inseguimento che ha emozionato i tanti tifosi sul traguardo di Panarotta, dove Duarte ha firmato il suo quarto secondo posto in carriera al Giro d'Italia. "Bravo ad Arredondo, che ha corso una grande tappa, ma peccato per noi, perché credo che il nostro Giro meriti il premio di un successo di tappa. Mi sentivo bene, e ho cercato di gestirmi con intelligenza, e alla fine siamo rimasti solo io ed Arredondo. Oggi ha vinto lui, e noi ci riproveremo. Mancano poche giornate, ma il Giro non è finito, e noi non molliamo di sicuro."
Nella giornata di domani, Venerdì 30 Maggio, i corridori affronteranno la cronoscalata della Cima Grappa con partenza da Bassano del Grappa per complessivi 26,8 chilometri.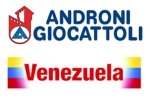 Gianni Savio con Pellizotti e Quintana © Photo Team Androni/Venezuela
Androni Venezuela, un grande Pellizotti quarto al Rifugio Panarotta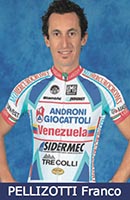 Levico Terme (Trento), 29 maggio 2014 -Avrebbe meritato probabilmente di più la Androni Venezuela, che si è messa particolarmente in evidenza con Franco Pellizotti giunto quarto al traguardo del Rifugio Panarotta dove si è imposto Julian Arredondo.
Perfetta la condotta di gara attuata dalla formazione diretta da Gianni Savio e Giovanni Ellena, che ha inviato all'attacco nel drappello di 14 fuggitivi Franco Pellizotti ed Emanuele Sella. Quest'ultimo aveva il compito specifico di lavorare per il capitano che avrebbe sferrato l'attacco nel finale di gara. Così è stata messa in atto la strategia disposta nel corso della riunione tecnica.
Pellizotti, nella foto ritratto, alla partenza da Belluno, con Savio e la maglia rosa Quintana, ha saputo gestire molto bene la sua azione sulla salita finale, ma ha avuto la sfortuna di ritrovarsi tre scalatori davvero in grande condizione, che lo hanno preceduto sul traguardo.
Resta la soddisfazione per l'ennesima prova di carattere dimostrata dalla squadra sempre in evidenza in ogni tappa di questo Giro. Franco Pellizotti ha guadagnato nella frazione odierna due posizioni nella classifica generale, dove occupa attualmente il 15° posto.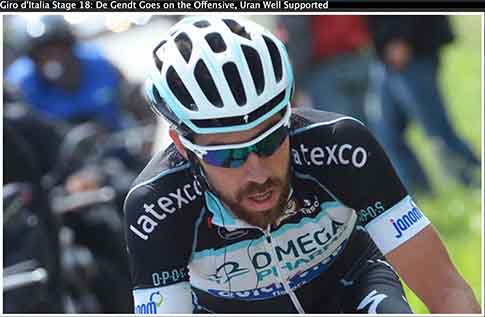 Thimas De Gendt in azione © Photo Tim De Waele per Omega Pharma Quick Step
Giro d'Italia Stage 18: De Gendt Goes on the Offensive, Uran Well Supported
Thursday 29 May 2014 - Omega Pharma - Quick-Step Cycling Team continues to race aggressively at the Giro d'Italia. With Rigoberto Uran sitting 2nd in the GC (+1'41") behind Nairo Quintana (Movistar), they placed three riders in support of Uran on the final, Cat. 1 climb Rifugio Panarotta (Valsugana). The climb had a 7.9% avg. gradient, with a 14% max ramp.
However, OPQS also had other ideas. Thomas De Gendt, for the second consecutive stage, went into the breakaway of the day. The 14-rider escape group once again stayed away from the Maglia Rosa group, though the leaders were down to just a few on the last climb. De Gendt launched his attack on the group approaching the bottom of the final climb. He was eventually caught by Julian Arredondo (Trek Factory Racing) and Fabio Duarte (Team Colombia) with 6.1km to go. The duo passed him for a short time, but he caught up to them along with Franco Pellizotti (Androni - Giocattoli - Venezuela). Riders from the original breakaway kept trying to bridge, but only a couple were successful. De Gendt attacked one more time, but was unable to hold off his fellow escapees.
Arredondo launched his winning attack with about 4 kilometers to go in the stage, going on to cross the line solo. Duarte was 2nd, Philip Deignan (Team Sky ProCycling) was 3rd. De Gendt, after a long day of attacks, was 6th.
Uran - who had support from Wout Poels, Gianluca Brambilla, and Serge Pauwels — sat well placed behind the lead group as Movistar and Team Europcar worked on the front. Pierre Rolland (Team Europcar) launched an attack at 5.3km to go and due to the high pace, and steepness of the climb, GC riders such as Ryder Hesjedal (Garmin-Sharp) and Cadel Evans (BMC Racing Team) were distanced from the Maglia Rosa group. Uran was not, as he was well supported by Poels. Poels even went to the front to help chase down Rolland.
Uran crossed the line on the wheel of Quintana, in 11th place. He now is the only rider in the GC with a gap of less than 3 minutes to Quintana. There was a shuffle in the GC, as Rolland is now 3rd and Fabio Aru (Astana) is 4th.
OPQS looks next to a crucial 26.8km Stage 19 uphill time trial, from Bassano de Grappa to Cima Grappa.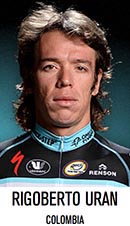 "I'm happy about what we did today," Uran said "I did a good race, but the team did a correct and strong performance. We said already the Giro is not finished, and we will fight until the end. Today I had help for the entire climb. I tried to also accelerate. The feeling was good, and tomorrow is another important stage. It's an uphill time trial. It's very demanding. But I feel good and have the will to do really well."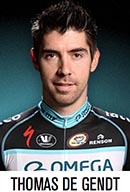 "Today I attacked for Uran, to help him on the last climb," De Gendt said. "But then we had seven minutes, then the team leader said I could take my own chance. On the final climb that was not too steep, I thought I had a good chance to win or get on the podium. When we went to start the climb it was pretty steep. I did my own tempo. I think Basso was first in the wheel. But then he dropped the wheel. So I said OK, I can go full gas until the start of the climb. I knew after 1 kilometer it was a little bit downhill. When I have 20" at the start of the climb, I can have the advantage if the riders don't work behind me. That was a little bit the plan. But I was not thinking about it at 5 kilometers before the climb. It was just a certain moment that I decided to go. It was the best decision, because if I wait for the others to attack, maybe I can't
follow. So, I am happy with my 6th place given that I made the right choice to be aggressive. As for tomorrow, I don't know what I can do. I need to do the recon and see how steep it is and if it's OK, and if my legs are OK. If that's the case, I will try to do a good time trial. But I have to say, I'm better now in the third week. I always seem to be better in the third week at Grand Tours."