18ª tappa Giro: Basso vince ancora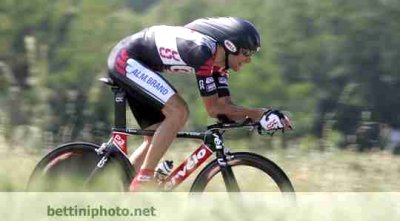 Torino 27.05 17:33 - For the second day in a row, Team CSC's Ivan Basso took a beautiful stage victory in the Giro d'Italia. Basso won Friday's 34-kilometer time trial between Chieri and Torino, while team mate David Zabriskie finished third. Paolo Savoldelli (Discovery Channel) increased his lead to more than two minutes on Gilberto Simoni (Lampre) in the general classification.

"Today represents more than a stage victory. It is a mile stone in my career. Previously time trials have always been my Achilles heel, but now I have evolved to the extent, that I'm able to win in this discipline. I have taken a great leap forward both physically and mentally, and all the hard work, I've done together with Bjarne, has yet again paid off. I still have a lot to learn as a rider, but at least now I can say, that I'm moving in the right direction," said a happy Ivan Basso.
Basso won the stage nine seconds ahead of Vladimir Karpets (Illes Balears), while Zabriskie came in third 20 seconds later.


"Ivan is developing into a complete rider, and the victory today is going to mean a great deal to him in the future. He pedaled to perfection in this time trial and once again showed, how great a time trial rider he has become. Now he's managed to retaliate for the second time, and from the way he's riding at the moment, it's possible he might just go for a hat trick in the tough stage tomorrow," said Bjarne Riis.
Team CSC put five riders among the 25 best in the last time trial of the Giro.


Diciottesima tappa Giro d'Italia, Simoni decimo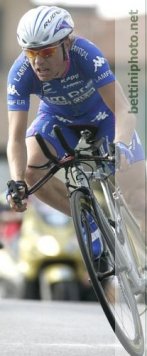 Torino, 27 maggio - Oggi la seconda cronometro di questo Giro ha visto la vittoria di Ivan Basso. Gilberto Simoni ha fatto una buona cronometro, è arrivato decimo a 1'34'' da Ivan Basso. All'arrivo ha perso però 1'11 su un super-Savoldelli da cui è distante ora, in classifica generale, 2'09''.

-"L'ipotesi peggiore – ha commentato Gilberto

dopo l'arrivo - era quella di perdere oltre un minuto. Savoldelli si è dimostrato veramente forte ma, per quanto mi riguarda, non mollo. E' da quando siamo partiti da Reggio Calabria che sono costretto a rincorre e spero che domani il margine di 2,09 che mi separa da Savoldelli sia invertito".
Domani, dunque, 19a e penultima tappa da Savigliano al Sestriere con l'inedito colle delle Finestre. Ci si aspetta una grande tappa e il verdetto finale…

Rujano cronometro in rimonta nella salita di Superga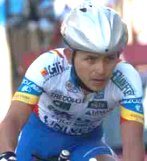 Torino 27/05/2005 - Josè Rujano la maglia verde del Giro d'Italia ha disputato una buona cronometro finendo al sedicesimo posto a 1'59'' dal vincitore Ivan Basso. Il "Pollicino" di casa Selle Italia si è difeso benissimo nel tratto in salita guadagnando su tutti i diretti avversari per il podio del Giro. Nel solo tratto della salita di "Superga" il corridore venezuelano ha guadagnato : 18'' su Savoldelli, 27'' su Simoni, 49'' e su Di Luca.

Rujano in mattinata aveva visionato il tracciato in compagnia di Marco Bellini e Ivan Parra. Prima della cronometro Josè ha riposato in un Hotel di Chieri messo a disposizione dalla squadra per consentirgli di riposare al meglio in vista dell'importante appuntamento.
Rujano è stato l'unico tra gli uomini di testa a non montare la ruota

posteriore lenticolare, una scelta precisa che così viene spiegata da Gianni Savio: "Io e Marco Bellini abbiamo deciso di non montare la ruota lenticolare per evitare di prendere eccessivi rischi in discesa, al massimo avremmo guadagnato 10'', tutto sommato possiamo essere contenti di questo risultato che rimanda a domani tutti i verdetti. Sono convinto che Josè domani potrà fare bene." In mattinata Philippe Schnider è stato vittima di una caduta nella discesa del colle di Superga, per lui solo abrasioni.


BASSO SI AGGIUDICA LA CRONOMETRO DA CHIERI A TORINO


Torino 27/05/2005 - Per la 18a tappa del Giro d'Italia, è andata in scena una cronometro individuale di 34 km da Chieri a Torino conclusa con la vittoria di Ivan Basso. Dario Cioni e Danilo Di Luca si sono classificati rispettivamente 5° e 14° ed hanno contenuto il distacco dalla maglia rosa

Paolo Savoldelli.
Dario Cioni risale in classifica generale dalla decima posizione all'ottava, a 6'52". Buona la prestazione del corridore Liquigas-Bianchi che parteciperà anche al Tour de France.
Danilo Di Luca è sempre quarto, a 3'08".
Il team Liquigas-Bianchi continua a condurre la classifica generale a squadre seguito da Credit Agricole e Lampre Caffita.

Savoldelli increases lead at Giro with two stages remaining © Bettini Photo
by Dan Osipow
Torino, May 27, 2005 - In the last chance to distance himself from his rivals prior to tomorrow's decisive final mountain stage of the Tour of Italy, the Discovery Channel pro cycling team's Paolo Savoldelli finished fourth in today's 34 kilometer stage 18 time trial and now leads the race by over two minutes with two stages remaining. Savoldelli, the race leader since stage 13 six days ago, finished 23 seconds behind CSC's Ivan Basso, who won his second consecutive stage. Vladimir Karpets of Illes Balears finished second in the stage, at nine seconds, while stage eight time trial winner Dave Zabriskie, also of CSC, placed third, at 20 seconds.
In the overall classification, Savoldelli gained 1:11 on his closest pursuer, Gilberto Simoni of Lampre, extending his lead from 58 seconds to 2:09. Third placed Jose Rujano of Selle Italia lost 1:36 to fall to three minutes back while former race leader Danilo Di Luca doubled his 1:36 deficit to fall 3:08 behind.
"I think today's stage meant a lot for Paolo," said Discovery Channel team sports manager Johan Bruyneel, speaking from his home in Spain. "My guess was he needed to take a minimum of one minute from Simoni and he did even better. I think it's a good sign for tomorrow. Even in the most difficult part of the stage, he was faster than Simoni. It's definitely good for his confidence going into tomorrow. Having a 2:09 lead is great, but it's going to be hard tomorrow. It's a very tough stage and the second to last climb is just terrible. He will have to be conservative and if he gets in trouble, he will have to keep his own pace. I'm excited for him. After yesterday (where Simoni gained 42 seconds on Savoldelli), I didn't think he would be in this position, but to take 1:11 out of Simoni today means Paolo's not finished and he has something left. It was huge for his morale."
Tomorrow's final mountain stage, 190 kms in length, takes the peloton up the climb of Sestrieres twice but also includes the Colle della Finestre. The climb is 18.5 km with an average grade of 9.2% with the final 7.9 km on a gravel road.
"I'm convinced the Giro will be decided on the Colle delle Finestre climb," Savoldelli told Reuters. "It's the hardest climb of the stage, most suitable for attacks, and it is where time gaps will open. It's up to Simoni and Rujano to attack me if they want to win the Giro. I'll ride on the defensive as I always do and try to lose as little time as possible."
"He's feeling confident and isn't nervous," Bruyneel said of Savoldelli. "He said he's where he wants to be and now it just depends on his legs for tomorrow. One thing he said was his biggest victory has already been achieved - and that's back to being a super bike rider after two years of a lot of problems. Being on this level again is his biggest victory and everything else is a bonus. That's a good sign for tomorrow. He's not one to panic - it's Simoni that has to be nervous."
The team's assistant sports manager Sean Yates echoed Bruyneel's stance. "He's quietly confident," Yates said of Savoldelli. "Barring disaster, it (the lead) should be enough. He's in a good position. The way it's panning out, Basso will try and win again tomorrow so they (CSC) will do a hard tempo on the climbs and then it should be every man for himself in the last 30 kms. Simoni is a strong climber and Paolo isn't a pure climber like him. It's normal Paolo would expect to lose a bit of time on the climbs but he also knew he could pull some back in the time trial."
In the race's three time trials - totaling 80.1 kms including the opening 1.1 km prologue - Savoldelli has gained 3:26 on Simoni, 6:07 on Rujano, 2:26 on Di Luca and 2:29 on fifth placed Juan Garate of Saunier Duval, who trails Savoldelli by 3:13.
"He has to make hay while the sun shines," Yates added. "Simoni is a specialist in the mountains but when it all adds up, it's better to be a strong time trial rider and a reasonable climber than a super climber and a weak time trialist."
The 88th Giro then finishes Sunday with a 119 km stage to Milan.