11ª tappa Giro: Sul Duran Ivan il terribile, spodesta dal trono del Giro il Piccolo Principe.
Cunego abdica a favore del menestrello Gibo Simoni. Basso nuovo leader trova un inquilino nella suite del Giro, è Savoldelli che vince la tappa tornando Falco in discesa e in salita è l'unico a domare le accelerazioni del beniamino di Byarne Riis
Basso

e

Savoldelli

in azione sulla salita di

Zoldo Alto

e l'arrivo con il successo ed il ritorno trionfale sulle strade del Giro di Paolo il "Falco"

©BettiniPhoto.net

Basso sembra sempre piu' gemello di Lance Armstrong sia come pedalata che tattica. La scuola del Tour ha creato un nuovo grande campione. E' presto per Damiano, troppo giovane, deve ancora maturare: "mi sono liberato di un bel peso" ammetterà il Re del Giro 2004 all'arrivo. "Troppa pressione nei miei confronti, è la causa della mia crisi". "Ora mi occupero' del mio capitano che è Gilberto Simoni".

Basso in Maglia Rosa
Zoldo Alto, 19.05 17:20 - With a second place in Giro d'Italia's first real mountain stage, Team CSC's Ivan Basso captured the pink leader's jersey. Paolo Savoldelli (Discovery Channel) won stage 11 ahead of Basso, and he is now second overall.
By constantly setting a very fast pace on the two toughest climbs Basso managed to put a great deal of pressure on his competitors, thereby separating the men from the boys. Damiano Cunego (Lampre-Caffita) and Stefano Garzelli (Liquigas) were among those, who fell victims of Bassos speed.
Savoldelli was dropped by Basso and Gilberto Simoni (Lampre-Caffita) on the 13 kilometer penultimate climb over Passo Duran, but managed to catch up after an impressive descent. Towards the finish it turned out to be Simoni, who had to let go in those last kilometers before the finish in Zoldo Alto.

"I felt really strong today. I wasn't giving much thought as to who was positioned where, but just made sure to keep as fast a pace as possible, as we hit the Passo Duran climb. This turned out to be the right strategy, and I could see, that not many were able to keep up with me. I had great legs today, so I launched several attacks in order to drop my competitors. Today I showed, that I'm a rider capable of pulling off a serious attack under the right circumstances," said Basso, who with his impressive performance captures both his own and Team CSC's first leader's jersey in one of the Grand Tours.
"It's a dream come true for me and my team with this pink leader's jersey, but I choose to be very humble about the situation. There are still a lot of tough stages left, and the race is far from over. Today many riders had an actual off-day, but that can happen to everyone in a big stage race – including myself. Now we have achieved an important goal, but of course I'll attack again, if I feel as strong as I did today," said a very happy Ivan Basso after the stage.
"It was a pleasure to watch Basso today. He did everything right, was very strong and had the situation well under control. There was no doubt, who was the strongest out there today, and it's great to capture the pink jersey in a tough mountain stage. The whole team has worked hard focusing on this goal. Now we'll take one day at a time, 'cause we know exactly what's ahead of us, and there are still many difficulties to overcome before reaching Milan," said Bjarne Riis.


SAVOLDELLI WINS FIRST MOUNTAIN STAGE AT GIRO, MOVES TO 2nd OVERALL
by Dan Osipow

May 19, 2005 - Putting two years worth of frustration behind him, the Discovery Channel pro cycling team's Paolo Savoldelli won today's 11th stage of the Tour of Italy, taking the 150 kilometer mountain stage from Marostica to the top of Zoldo Alto (Dolomti Stars). The victory - Savoldelli's first with the Discovery Channel team and his first since 2002, the year he won the Giro - moved the Italian into second place overall, 18 seconds behind new race leader Ivan Basso of CSC, who finished second in today's stage.
"He's happy, bloody happy," Discovery Channel assistant sports manager Sean Yates said of Savoldelli. "He's happy because his form is finally back after two years. He's got his morale back and today was just icing on the cake, at least for the moment."
With the race pointing to today as its "official" beginning the the peloton hit the Dolomites. The overall favorites moved to the front on the final climbs after reeling in the Discovery Channel's Benoit Joachim, who had taken off on a solo breakaway. Contenders such as Savoldelli, Basso, Lampre's pair of 2004 winner Damiano Cunego and 2003 and 2001 winner Gilberto Simoni and Liquigas' race leader Danilo Di Luca geared up for the final two climbs - the 13 km Passo Duran and the 12 km finishing climb to Zoldo Alto.
"We knew Lampre would attack as they needed to take time against Basso," Yates said. "But on the Passo Duran, it was Basso who attacked first. Simoni and others responded but Basso kept on attacking and Cunego went out the back, (2000 winner Stefano) Garzelli went out the back, guys were all over the mountain side."
The only riders able to go with Basso were Savoldelli, Simoni, Di Luca and Selle Italia's Jose Rujano.
"It was every man for himself," said Yates. "The climbs here are much harder than in the Alps."

At the top of the Passo Duran, Savoldelli was a bit off the pace but used his superior descending skills - those that earned him the nickname "il Falco" (the Falcon) - to zoom past the lead group again begin the final climb with a small lead. Eventually, the group came together before Savoldelli and Basso pulled away. Both finished 21 seconds in front of Simoni and 1:04 ahead of Di Luca.
"He was amazing today," said team sports manager Johan Bruyneel, watching the action unfold from his home in Spain, said of Savoldelli. "First off, I'm happy for him after two years of a lot of problems and injuries which made him lose his confidence. Now, he's back on the highest level and I think he proved, especially to himself, that he's one of the best bike riders. That is just what he needed and I think from now on, we will see a Savoldelli that we are used to seeing. I can see he needed some confidence and there is only one real way to gain that back, and that's getting results.
"He's doing what we expected of him at this Giro and even more than that," Bruyneel added. "He's a strong candidate for the podium, although we all know one bad day is enough to lose everything. It's clear Basso is a big favorite and Cunego lost all his options today."
Competing in its first Tour of Italy, Bruyneel was also pleased to add the Giro to the list of team victories.
"The win today is great for our team," he said. "Once again, this shows how this team is more than only about Lance (Armstrong). We've shown it in the past but many people just don't see that. For us as a team, for us as directors, its very important."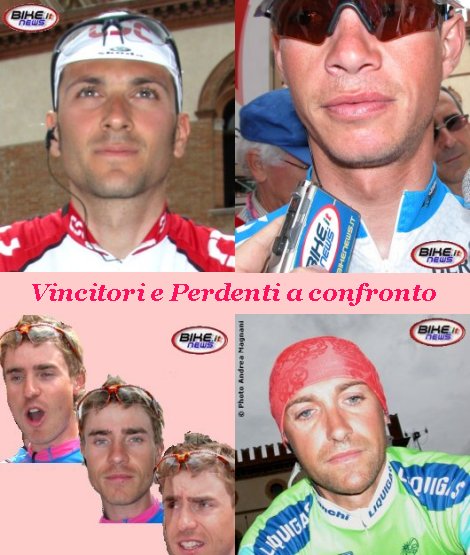 Lucidità e freschezza negli sguardi di Basso e Savoldelli, fotografati da Andrea Magnani, mentre non altrettanto si puo' affermare per gli sguardi di Garzelli e Cunego © Photo Bikenews.it