COMUNICATI STAMPA DALLA CORSA

Giro Stage 20: It's Basso Again!
Ivan
Basso
transita sotto il monumento dedicato a
Pantani
©
Bettini Photo
May 27, 2006 - Team CSC's Ivan Basso put an exclamation point on the final hard day of the 89th Giro d'Italia, winning his third stage Saturday and all but securing overall victory with just one easy day left.
Basso dropped two-time champion Gilberto Simoni (Saunier Duval) with about four kilometers to go in another grueling, seven-hour battle across the most difficult mountains of the three-week Giro.
Basso held up a picture of his brand-new baby boy, Santiago, as he slipped across the line at the end of the four-climb, 211-kilometer 20th stage from Trento to Aprica.
With the victory, Basso widened his lead to nearly eight minutes, one of the largest winning differences in Giro history.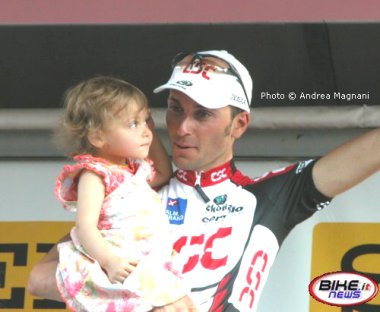 Ivan Basso con la figlia Domitilla © Photo Andrea Magnani

Gibo: a great rider, disappointed.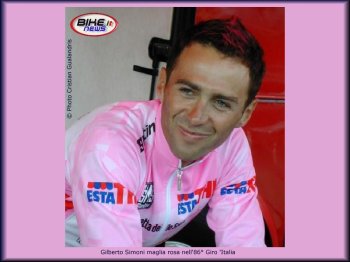 27/05/2006 - What a fantastic show! Stage 20 of the Giro, from Trento to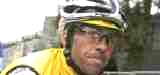 Aprica, was impressive. It featured the Gavia climb, the Cima Coppi and the Mortirolo climb.
Ivan "the Terrible" Basso (CSC) took one more stage victory, just ahead Gilberto Simoni, who crossed the finish line with a bitter state of another stage win escaping him. Gibo showed his strength and climbing skills, he worked together with Basso to leave rivals behind.
The whole SAUNIER DUVAL-PRODIR team were quite active, once again. Basso, however lifted the pace, and Simoni could no longer hold his wheel. Too bad for Gibo, who had dreamt of grabbing at least this stage victory in this edition of the Giro. He looked disappointed after crossing the finish line, unable to conceal his sadness. Gilberto´s performance was spotless during the last three weeks, but there was someone who was stronger than him, someone "out of this world," as Gibo himself has defined Basso.
At Passo di Gavia, a bunch of riders broke away to fight for the mountains classification and pay homage to Fausto Coppi.
Juan Manuel Gárate (Quick Step-Innergetic), yesterday´s victor, was the first to reach the top. Then, the pink jersey group formed, counting 25 men who included Simoni, Piepoli and Lobato. The efforts of the SAUNIER DUVAL-PRODIR men were formidable: they toughened the course, managing to slim down the leading group to fifteen. Basso also sped up the pace, and only Gibo succeeded in catching his wheel. The Eddo descent was another difficult stretch, for chasers José Enrique Gutiérrez and Damiano Cunego are very good on descents. Gibo took the bull by its horns and his efforts in working with Basso were generous indeed. Both men took the last climb together and they stayed together until Basso lifted his pace, sprinting to fight for victory in a finale in which either had to win.
Be that as it may, SAUNIER DUVAL-PRODIR will finish their Giro with positive results and holding their heads high, as a noble team, always up front, who picked two stage victories (Piepoli´s feat) and a larger-than-life Simoni on the podium (3rd).

Cunego 3° all'Aprica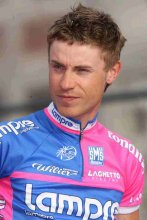 Ancora una prova generosa da parte di Damiano Cunego nella penultima tappa del Giro d'Italia, la Trento-Aprica di 211 km che ha portato i corridori sul Passo del Tonale, in cima al Gavia, al Mortirolo e infine all'Aprica.
Cunego ha conquistato un prestigioso terzo posto, alle spalle del vincitore Ivan Basso e di Simoni: Damiano ha tentato di perdere meno terreno possibile dalla coppia di testa sulle rampe del Mortirolo, lottando con grinta e tenacia, e di guadagnare secondi su un attardato Savoldelli. La salita finale è stata affrontata da Cunego in compagnia di Gutierrez Cataluna, con Damiano che è riuscito a vincere lo sprint per il 3° posto di tappa e strappare il 4° posto in classifica generale a Savoldelli.

Damiano Cunego ha già programmato la settimana che seguirà il Giro d'Italia. Il capitano della Lampre-Fondital parteciperà alle seguenti gare:
- lunedì 29 maggio, circuito a Carate Brianza
- martedì 30 maggio, circuito a Broni
- giovedì 1 giugno, circuito ad Arona
- venerdì 2 giugno, cronoscalata del Mottarone, poi in serata gara tipo pista a Torino.

Another good performance by Damiano Cunego in the 20th stage of Giro d'Italia, the Trento-Aprica of 211 kms with the climbs of Passo del Tonale, Gavia, Mortirolo and Aprica.
Cunego obtained a prestigious third place, behind Basso and Simoni: Damiano tried to limit the gap from Basso and Simoni on Mortirolo and also tried to gain as much seconds as possible on Savoldelli in late. Then Damiano covered the final climb with Gutierrez Catalunia: Lampre-Fondital's captain won the sprint for the 3rd place and obtain the 4th place in the overall standing.

Damiano Cunego already knows his appointments for the next week. He will take part in the following races:
- Monday the 29th of May, circuit in Carate Brianza
- Tuesday the 30th of May, circuit in Broni
- Thursday the 1st of June, circuit in Arona
- Wednesday the 2nd of June, time trial of Mottarone climb, and then in the evening race "tipo pista" in Turin.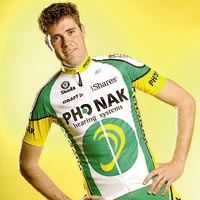 Aprica, 2006-05-27 - Das grosse Kämpferherz des José Enriqué Gutierrez
Noch einmal, bis praktisch in die letzten Kehren des Passo del Montirolo kämpfte Gilberto Simoni, in der 20. Etappe des Giro von Trento nach Aprica (211 km), um Phonak-Captain José Enriqué Gutierrez (Foto Tim De Waele) den zweiten Gesamtplatz noch abzujagen.
Doch Gutierrez quälte sich und widerstand. Und als er die letzten Kehren hinauf nach Aprica – Sieger Ivan Basso vor Simoni – bewältigte, wusste Kike, dass er es geschafft hatte. «Aber ich bin hundemüde, der heutige Tag hat alles gefordert», gestand der Spanier.


Stage 20: Trento to Aprica, 211 km / 131 mi
- by Cathy Mehl
It's time to say goodbye to the mountains in the 89th Giro d'Italia, as Stage 20 took the cyclists up and over three high passes today before the final shorter uphill climb to the finish in Aprica. Saying goodbye rarely comes without some sorrow, and there were plenty of riders feeling a little sorry for themselves as they had to get up and over the passes before the homestretch into Milan on Sunday. It was the second seven-hour day in the saddle for the 150 cyclists still left in the race and the peloton was definitely showing signs of wear.
But in the end, Ivan Basso (CSC) continued his dominance of this year's Giro and claimed his third stage of the race in a time of 6:51'15", with Gilberto Simoni (Saunier-Duval) coming in 2nd at 1'17" behind. Perhaps racing for newborn son Santiago Basso provided a special motivation that others could not match. Whatever the guiding force, Basso made it clear that he deserved to win the 2006 Giro and wear the Maglia Rosa.
A long early morning transfer (that riders were none too happy about) had the beginning pace creeping along in the initial kilometers. An early break included Discovery Channel's "Chechu" Rubiera, but on the slopes of the Passo Gavia further selection was made. With snow still present on the slopes of the Gavia, Juan Manuel Garate took the lead on the climb and popped over the top first to earn the trophy for the Cima Coppi in this year's race, followed by Jose Serpa (Selle Italia) and David Lopez (Euskaltel). Named after famous Italian rider Fausto Coppi who won his first Giro in 1940, followed later by three more wins, each year the prize is awarded to the first rider who crosses the highest point in the race and this year was at 2618m (8587 feet) on the Gavia; a prestigious award for any rider. Also of note in this area was the win in 1988 by American cyclist Andy Hampsten, riding for 7-Eleven, who made an epic ride over the Gavia to secure victory at the Giro in conditions that would likely cause the race to be cancelled in today's peloton.
The peloton-breaking climb of the day was over the Mortirolo. Many riders claim this is the hardest climb in cycling, due to its average 10% gradient, with some sections seeing 18%. Coming at the end of the race, it immediately put many riders in trouble. CSC and Saunier Duval-Prodir set the pace as the climb began, but soon a very small group developed at the front and the day's final selection was made. Simoni and Basso pulled away from the group as Simoni made his last big push to try and land on the second step of the final podium. But Phonak rider Jose Gutierrez, although not a light-on-his-feet climber, somehow found a way to plod along, minimize his losses, and retain that second spot on the overall standing.
Huge crowds were at the top of the climb as the Tifosi were present in full force, screaming for the Italian riders. With the steepness of this climb the cyclists had to make their way slowly through the sea of people, and the fans had every opportunity to be up close to their to their favorites. Up and over the top went Simoni and Basso first, with Piepoli, Gutierrez and Cunego in the next group back, distancing Discovery Channel's Paolo Savoldelli from the the leaders by over three minutes.
Once on the descent, Simoni and Basso continued to work together, with Gutierrez and Cunego following them. Further back "Il Falco" was taking flight, as he soared down the treacherous descent and tried to hold on to his fourth place GC standing. Riding alone, Paolo made up time to the leaders, but it wasn't enough to hang on to his spot, and Cunego moved into fourth place overall on the final day of climbing. Regarded as the best descender in the peloton, Il Falco was pure pleasure to watch as he tucked over the bars and easily leaned left, then right, cutting close on the inside of the curves and making it impossible for even the motorbikes to keep up.
Once inside the final 5k, Basso and Simoni worked together until 2k from the finish when Basso went around Gilberto for his pull and simply kept going to the finish line. With that now-famous smile erupting over his face, Ivan Basso reached inside his jersey and pulled out a photograph of his newborn son Santiago and held it up in dedication of the win.
Basso has much to celebrate, and one has to imagine that riding fast to the finish in Milan so he can see his son all that much sooner has to be just as important to him as wearing the Maglia Rosa. His dominance in the race has surprised many, but the quiet Italian has gone about his work and made the Giro his own. "Basso! Basso!" chants came from the crowd as Ivan gave the crowd two thumbs up from the podium and Italy crowned a new champion.
For DC, Chechu Rubiera had a good day in the mountains and came in 13th place on the day's stage. However, sinusitis and a fever last night finally got the better of Tom Danielson and he was unable to start today. With only two stages remaining, it had to be a huge disappointment to Tom to not make it to Milan.
Tomorrow will be a final ceremonial stage with a sprint finish into Milan as the 89th edition of the Giro d'Italia comes to a close and Ivan Basso will be crowned the victor, and a very deserving champion indeed…

Gerolsteiner-Sextett mit Ambitionen auf die Schlussetappe


Auch die Verantwortlichen und Fahrer aus dem Team Gerolsteiner erkennen die Dominanz von Ivan Basso (Italien/CSC) beim 89. Giro d'Italia an. "An ihm führt derzeit kein Weg vorbei hier. Er ist das Nonplusultra", erklärte Christian Wegmann zum Mann im Rosa Trikot. Der Italiener hat am Samstag die schwere 20. Etappe über 210 Kilometer von Trento nach Aprica als Solist gewonnen und steht nach seinem dritten Tageserfolg vor dem Gesamtsieg bei der ersten dreiwöchigen Landesrundfahrt der ProTour-Saison. Aber auch der Sportliche Leiter der Eifel-Equipe konnte derweil zufrieden sein, "denn nach dem erwartet schwierigen Tag heute, gehen wir mit sechs Mann auf die Schlussetappe."

Vor dem Gerolsteiner-Sextett und dem Giro-Peloton stehen am Sonntag nun also noch 140 Kilometer, ehe das Ziel in Mailand erreicht ist. "Wir haben die Jungs soweit durchgekriegt, den Rest schaffen wir auch noch", sagte Wegmann. Und, die Rennfahrer aus der deutschen ProTour-Mannschaft nehmen den letzten Akt nicht ohne Ambitionen in Angriff. So ist im Finale einmal mehr mit einer Sprintankunft zu rechnen. Eine Angelegenheit für Robert Förster und Stefan Schumacher also.

Coppia d'assi al Dolomiti Stars:
Giro d'Italia e Granfondo
Dopo l'impresa di Juan Manuel Garate a Falcade-Passo San Pellegrino, domani debutta sulle Dolomiti bellunesi la 1a Gran Fondo Giro d'Italia - Dolomiti Stars.
991 gli iscritti, tra cui Freddy Maertens e Massimiliano Lelli.
Speciali TV a cura di Rai Sport e SKY Sport
27 maggio - Una platea immensa ha seguito, ieri, l'impresa di Juan Manuel Garate, che si è imposto sul traguardo di Falcade-Passo San Pellegrino, al termine della 19a frazione del Giro d'Italia. Sulla salita finale l'affluenza del pubblico, cospicua già da giovedì notte, è stata stimata in 40.000 spettatori; 50.000 persone in tutta l'area Dolomiti Stars hanno assistito alla corsa, dominata dalla fuga di 155 chilometri di un gruppetto di 12 uomini, tra cui il campione di Spagna.
Mentre la carovana rosa prosegue la marcia verso Milano, nel Dolomiti Stars è ora il turno dei cicloamatori, che domani (domenica 28 maggio) daranno vita ad un'inedita granfondo. 991 appassionati di ciclismo, provenienti da ogni parte del mondo, parteciperanno alla prima edizione della Gran Fondo Giro d'Italia - Dolomiti Stars, che si correrà sulle stesse strade su cui poche ore fa si sono affrontati i campioni in lizza per la maglia rosa. Al via anche alcuni partecipanti d'eccezione, tra cui l'ex-iridato Freddy Maertens e l'ex-pro Massimiliano Lelli.
«Siamo molto soddisfatti per l'accoglienza che ha avuto il Giro d'Italia nel nostro territorio - commenta Sergio Pra, presidente di Dolomiti Stars -. Il ciclismo tira, e molto: lo hanno confermato le migliaia di persone che si sono riversate nell'Agordino, non solo a Passo San Pellegrino, ma anche sul Pordoi, sul Fedaia e lungo tutte le strade del Dolomiti Stars. Due ali di folla in festa: questa è una grande vittoria di tutto il comprensorio che presiedo». Renzo Minella, responsabile marketing del Dolomiti Stars, aggiunge a proposito della Gran Fondo Giro d'Italia - Dolomiti Stars: «La granfondo rappresenta il botto finale di una tre giorni esaltante all'insegna del ciclismo interpretato ai massimi livelli. L'evento amatoriale - continua Minella - va a completare l'investimento di Dolomiti Stars nel mondo delle due ruote, nell'ottica della promozione dell'offerta turistica estiva delle Dolomiti bellunesi: i primi risultati positivi sono già tangibili, basti pensare che da giovedì scorso gli hotel in tutto il consorzio sono al completo».
La Gran Fondo Giro d'Italia - Dolomiti Stars, organizzata dal consorzio turistico bellunese in collaborazione con Rcs Sport, prenderà il via alle ore 7.30 nella piazza principale di Arabba. Due i percorsi in programma: il percorso lungo, di 170 km, condurrà attraverso le località di Arabba, Colle Santa Lucia, Selva di Cadore, Passo Staulanza, Zoldo Alto, Dont, Passo Duran, Agordo, Cencenighe Agordino, Canale, Falcade, Passo San Pellegrino, Moena, Canazei, Fedaia, Rocca Pietore, Digonera, Arabba. Il percorso breve (110 km) si snoderà tra Arabba, Colle Santa Lucia, Selva di Cadore, Passo Staulanza, Zoldo Alto, Dont, Passo Duran, Agordo, Cencenighe Agordino, Alleghe, Caprile, Digonera, Arabba.
Le fasi salienti della granfondo saranno trasmesse in televisione: domenica 4 giugno su Sky Sport 2, a partire dalle ore 14.45; copertura garantita da Rai Sport, in chiaro, su Rai Tre, e su Rai Sport Satellite.