COMUNICATI STAMPA DALLA CORSA

Giro Stage 16: Basso Wows Them Again
Basso esulta sul podio © Photo C.Gualandris
May 23, 2006 - Ivan Basso rode with authority in the race leader's jersey, winning Stage 16.
There´s no stopping Team CSC´s Ivan Basso in the 89th Giro d'Italia.
Riding with authority in the race leader´s pink jersey, Basso brought home an emphatic victory in Tuesday´s difficult climbing stage up Monte Bondone to score his second stage victory of this year´s Giro and widen his overall lead with just five days left to go.
"This is one of the most beautiful wins of my career," a jubilent Basso said. "It's very special to win in the maglia rosa. That gave me extra motivation today apart from trying to get even more time on my rivals."
Basso chugged away from the exasperated peloton on the long, grinding climb to the Bondone summit and won 1 minute, 26 seconds ahead of hometown favorite and two-time Giro champ Gilberto Simoni (Saunier Duval).
The 28-year-old captain made it look easy as he cranked his pedals in a high-cadence spin that proved lethal to anyone trying to stay on his wheel in the 173-kilometer 16th stage.
Basso´s extraordinary performance took the wings out of anyone hoping to pull a late-hour comeback. He now leads second-place José Enrique Gutiérrez (Phonak) by more than five minutes and defending champion and third-place man Paolo Savoldelli (Discovery Channel) by more than nine minutes.
There was some suggestion that Basso should have been gracious and let the veteran Simoni take the victory, but Team CSC sport director Scott Sunderland said that was all poppycock.
"It's one thing if Simoni was able to stay with Basso, but Simoni couldn't so there's no way Ivan is going to wait for him when you still have Gutierrez there battling and Savoldelli," Sunderland said. "You knew Simoni was going to give it a go because this was his hometown, but Ivan was just better."
The victory sets Basso firmly on the road for overall victory. Three hard climbing stages, one transition stage and the final frolic into Milan on Sunday are all that remain, but Basso refuses to look too far ahead. He was content to celebrate Tuesday's win, the fourth Giro stage victory of his career.
"I haven't had much chance to win very often in my career, so I have to take the opportunities when they present themselves," Basso said. "I cannot say the Giro is over. I will not do anything out of the ordinary in the coming days. I will keep going day to day and stay calm."
Simoni, who hails from nearby Trentino, was riding on pride but got dropped by Basso with just under seven kilometers to go. Basso then drove it home for a win that sends a clear signal to anyone who thought Basso might crack under pressure late in the Giro.
With such a commanding lead and the strong support of Team CSC, Basso can ride into the final climbing stages without the pressure to attack. He will, of course, if he feels great, but now it's up to the others to try to shake him loose from atop the overall.
"We are now in a very good position. We are confident and Ivan is confident, but like I said before, you're foolish if you think the race is already won," Sunderland said. "We are not going to celebrate anything yet. We will remain vigilant and cautious until we cross the line into Milan, then we can open the bottles of champagne."
Team CSC was once again solid, but Basso didn´t even need any help when the peloton turned up on the steep, twisting climb that opened four hard days in northern Italy´s Dolomites mountains. Sunderland said Basso's victory is sure to lift the morale of the team for the decisive closing climbing stages which could still sway the balance the wrong way if Basso has a bad day.
"The team was solid and really set the tempo on the bottom part of the climb to keep things under control," Sunderland said. "These wins are so rewarding for everyone on the team, for all the mechanics, masseurs, sport directors, everyone. There's a lot of work that goes on behind the scenes that no one sees. But that's our job, to take care of everything so Ivan can be 100 percent."
The 89th Giro continues Wednesday with the 133-kilometer climbing stage that ends on the Plan de Corones, a torturously steep road that was only paved a week or so ago after riders complained of the planned finish on dirt roads. There's some talk the stage might be shortened if the weather turns sour.
If Basso can deliver another knock-out blow, the Giro crown is all but his.

Ivan
Basso
al comando con
Simoni
e
Gutierrez
sul
Bondone
©
Bettini Photo

Fantastic race! Simoni and Piepoli, on the podium.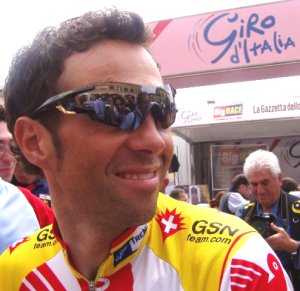 Gilberto Simoni alla partenza © Photo C.Gualandris
23/05/2006 - Stage 16 of the Giro, from Rovato to Trento - Monte Bondone, was great for Gilberto Simoni, since this is his homeland and hundreds of fans went to Monte Bondone to cheer him on.
Gibo lived up to their expectations. He followed extraordinary pink jersey wearer Ivan Basso (CSC) on his way to the podium, putting up a nice fight and coming in 2nd. SAUNIER DUVAL-PRODIR´s performance was impressive: Rubén Lobato made every effort in the peloton to catch the breakaways´ wheel, and Leonardo Piepoli and Gibo´s teamwork proved effective on their ascent in Monte Bondone.
Leonardo Piepoli moved to the front and started lifting the pace. His forcing thinned the bunch further down to ten. When Simoni realised that the Savoldelli group was getting closer, he told Piepoli to move up front and pick up the pace again. Piepoli followed orders, which resulted in the speed ballooning again. Helped in this way by his teammate, Gibo attacked but both Basso and Gutiérrez (Phonak) were up to the task. In fact, only Basso was, since after closing down on Gibo once, Gutiérrez had to give up. At last, Basso forced the pace. The Maglia Rosa sped off on his own, took a few dozen metres out of Gibo, and then widened the gap. Simoni did everything he could to get the "home win" he wanted, and needed.
But Basso was simply superb. Gritting his teeth, Gibo tried to save his second place, and succeeded. As a result of the SAUNIER DUVAL-PRODIR good team work, Piepoli snatched third place from Gutiérrez, also taking the relative bonus seconds away from him. SAUNIER DUVAL-PRODIR led the stage Super Team classification today.
Although the top step is an Ivan Basso thing only, Gibo has more and more chances to figure on the Giro podium for the umpteenth time in his career. The fight for the 2nd and 3rd places is still open.


Gutierrez extends his lead over those trailing him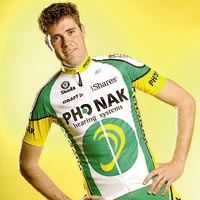 Monte Bondone, 2006-05-23 - The 16th stage of the Giro d'Italia had an extremely difficult finale with a 17.5-km climb up Monte Bondone. Although not really a climber, Phonak captain José Enriqué Gutierrez held his ground against his opponents. He lost 1:37 minutes to the day's winner and overall leader Ivan Basso, but by placing 4th for the stage behind Simoni and Piepoli, Gutierrez built up his lead over the rider ranked just behind him, Paolo Savoldelli. Victor Hugo Peña also held on well, taking 13th place for the stage.

Giro d'Italia - 16ª tappa 23/05/2006

"Domani proverò a tenere duro, anche per i miei compagni di squadra che oggi mi sono stati vicino": queste le parole di Cunego al termine della 16ª tappa del Giro d'Italia (Rovato-Monte Bondone) che ha visto Damiano giungere sul traguardo trentino in 24ª posizione a 4'37" da Basso, vincitore di giornata e sempre leader in classifica generale (Cunego è ora 8° a 13'55").
Emozionante la partenza da Rovato, paese del direttore sportivo della Lampre-Fondital Giuseppe Martinelli, dura la salita finale sul Monte Bondone, con la Csc che ha imposto un ritmo forsennato sin dalle prime rampe mettendo in difficoltà gran parte degli atleti del gruppo. Cunego ha provato a tenere duro per alcuni chilometri, ma ha poi dovuto salire col proprio passo, guidato dai compagni di squadra.
La frazione di domani, con partenza da Termeno, prevede il suggestivo arrivo in salita a Plan de Corones, con il tratto finale sterrato. Per questa dura ascesa, i corridori della Lampre-Fondital utilizzeranno bici (in foto) sulle quali è stata montata una compact (52-34) e con tubolari da sterrato, uguali a quelli usati per la Roubaix.


Stage 16: Rovato to Trento Monte Bondone, 173 km / 107 mi
Paolo Savoldelli leader della classifica della combinata © Photo C.Gualandris
- by Chris Brewer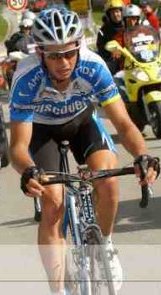 Today was a day for a big group ride, at least for 156 of the 173 kms on tap - and then it was game on after that. The only "action" other than the peloton being led by teams CSC and Saunier Duval en masse was the young Colombian rider Rubiano (Pan) off the front and left to dangle on his own at about four minutes lead time at the halfway mark.
While the scenery was spectacular as the race wound its way into the mountains the racing was actually quite blasé, evidenced by the average speed of a mild 35 kmh / 22 mph. The overcast-but-dry weather made for pleasant riding conditions although there was a bit of a chill in the air with temps in the upper 40's / 50's F.
With 40 kms left the gap was now at around three minutes, teams CSC (for Basso) and Phonak (for Gutierrez) prominent on the front of the entire peloton. 30 kms left, the road starting a slight uphill drag before the climb, and only 2'25" to Rubiano, not that anyone really considered him a threat whatsoever.
As the pack went under the 25km to go banner the gap was less than a minute to the man on point, but more importantly were coming up to a 3.5 km descent and then the 17 km finale up Monte Bondone. Seven CSC riders were on point as the peloton literally blew by Rubiano with 19 km to go; it was now show time and no more chatting about.
CSC continued to set a fierce pace to discourage any initial attacks but as the climb started to take effect it was no less than "Il Grillo", Paolo Bettini (QS), setting the pace on the front. The effect of the climb was immediate as the non-climbers immediately started to form the grupetto off the back meanwhile three CSC riders were again on point, Jens Voight leading the way for race leader Basso.
The first real attack came from the Selle-Italia team as Serpa (47' back) shot up the left side of the pack and went clear. CSC didn't look interested in chasing him and settled into a more comfortable rhythm, much to the relief of the lead pack - the gap to Serpa only at about 10".
In the main 40-man bunch Discovery Channel still had three riders in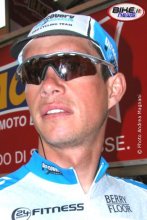 Savoldelli, Danielson, and Rubiera. As Serpa was swept up the pack maintained their pace and then SD's Piepoli came to the front and lifted the speed a little. His effort had another immediate effect and split the front group into two sections - the first with Basso, Simoni, and Gutierrez, and the second with names like Di Luca, Cunego, and Savoldelli!
Sastre continued to set the tempo for the Basso and the 10 riders left on point, 10 kms left to the top. In the second group DC's Chechu Rubiera came to the front as he and Savoldelli started to make time back to the leaders up the road - a huge effort by Chechu to bring things back, just 15" to the front - so close…
Sensing the other riders coming up, Piepoli again lifted the pace with Simoni, then Simoni went hard - and Basso countered him! Pieipoli was dropped and then Gutierrez went next - only two men left on the front of the race as it looked like the final selection had been made. Basso clearly looked the stronger of the two and made a rare out-of-the-saddle acceleration and summarily dropped Simoni. He quickly put 8-10" into him but both men looked to still be riding strong as they headed to the line. Basso now stayed seated but was clearly looking to accelerate and "bang his fist on the table" with 5 kms left to the finish and 33" to Simoni and then the others.
Back down the mountain Piepoli was marking Gutierrez now in 3rd on the stage. The gap to Rubiera / Savoldelli was reported at 2'40" but by stage's end any number of GC changes would occur. While Basso was assured the stage win, Gutierrez was doing his damndest to get back to Simoni and could now see the SD rider with 1200m to go. As the riders headed to the line various "tifosi" - Italian cycling fans - were jumping the fencing and running / screaming encouragement along side the men as they headed to the line.
As Basso came across the line with a broad smile across his face all eyes were now flipping between the riders coming home and the race clock to see what damage had been done. Simoni would hang on to get 2nd on the day but thanks to big efforts by Gutierrez and Savoldelli the first three positions overall would not change. But the effect on the riders from 4th down would change significantly - and this was just the first of four big days!

Volker Ordowski bester Gerolsteiner auf dem Monte Bondone

Volker Ordowski hat die Farben des Team Gerolsteiner auf der 16. Etappe des 89. Giro d'Italia hochgehalten. Der Tübinger kam am Dienstag bei der schweren Bergankunft auf dem Monte Bondone oberhalb von Trento in einer der ersten Verfolgergruppen ins Ziel und war damit bester Rennfahrer (63. Platz) aus der Eifel-Equipe. Nach den 173 Kilometern mit Start in Rovato triumphierte einmal mehr Ivan Basso (Italien/CSC), der durch seinen Solosieg auch seine Gesamtführung beim ersten dreiwöchigen Rennen der ProTour-Saison ausbaute.

Christian Wegmann war unterdessen von Beginn an klar, dass seine Schützlinge im Kampf der Favoriten auf den Gesamtsieg eine eher kleine Rolle übernehmen würden. "Oberstes Gebot war heute durchkommen. Und das haben wir geschafft. Schließlich gibt es noch Möglichkeiten für uns, auf anderen Etappen vorne zu landen. Und das wollen wir natürlich versuchen und nutzen", erklärte der Sportliche Leiter.

Am Mittwoch steht den Gerolsteinern und dem Giro-Peloton derweil eine noch härtere Prüfung bevor: die Bergankunft auf dem Plan de Corones auf 2273 Meter Höhe. Der 16,9 Kilometer lange Schlussanstieg weist Steigungsprozente bis zu 24 Prozent auf - und dies auf einer Schotterpiste, die die Rennfahrer auf den abschließenden rund fünf Kilometern ins Ziel führt.

Entsprechend bereiten sich die Rennfahrer aus der Eifel-Equipe vor. "Wir ketten vorne 34/50 anstatt der üblichen 39/53 Zähne", sagte Wegmann. Hinten werde ein Kranz mit 27 Zähnen montiert - normal sind in den Bergen 23. "Damit müssten wir gewappnet sein. Wenngleich da oben vor Tagen noch Schnee gelegen hat", meinte der Sportliche Leiter weiter. Neben dem abenteuerlichen Anstieg geht es für die Gerolsteiner aber auch wieder auf ungewohntem Wege zurück ins Tal - per Gondel.


Lettera aperta di Gianni Bugno

Le recenti vicende che riguardano il mondo del calcio ci chiamano ad una profonda riflessione, affinché non accada che analoghi problemi si riproducano nel ciclismo. Mi riferisco, in particolare, all'esigenza di riservare la giusta attenzione alle norme che regolano (o forse sarebbe meglio dire "non regolano") la categoria dei cosiddetti procuratori. Ad oggi, in effetti, siamo in presenza di un'assoluta mancanza di regole, con la conseguente impossibilità di garantire un adeguato livello professionale tra chi opera in questo settore.
A salvaguardia di un ambiente sportivo quale il ciclismo, che dopo le passate vicissitudini sta recuperando l'affetto (peraltro mai venuto meno) e la fiducia del pubblico, ritengo opportuna la creazione, da parte degli organi competenti, di un Albo Professionale a cui possano essere iscritti soltanto quanti abbiano titoli e capacità tali da garantire il corretto espletamento della funzione di procuratore sportivo. Credo, altresì, che occorra limitare il numero massimo di atleti a capo di ciascun procuratore, onde evitare manipolazioni che potrebbero persino configurarsi nella "gestione indiretta" di gare o gruppi sportivi.
Riprendendo una terminologia in voga nella ricostruzione delle note vicende calcistiche, si dovrebbe scongiurare il rischio che società, team manager e direttori sportivi subiscano qualsivoglia "sudditanza psicologica" nei confronti di procuratori (altrimenti definiti "agenti") capaci di esercitare autentiche imposizioni. Questo scenario, che nuocerebbe profondamente al movimento del ciclismo, finirebbe fatalmente con il colpire i corridori più giovani.
Oggi più che mai il problema s'impone in tutta la sua drammaticità, tanto da non poter più essere rimandato. Non si renderebbe un servizio al ciclismo ricorrendo alle solite frasi ("Ci stiamo lavorando", "E' stato discusso ma ...", "Stiamo valutando come muoverci"...): serve un intervento deciso e decisivo per il bene del ciclismo. Solo così impediremo che intorno ad atleti e gruppi sportivi si muovano figure para-professionali che non possiedono adeguate conoscenze e, soprattutto, che non rispettano le più elementari norme deontologiche. Il nostro mondo è chiamato a lanciare un segnale forte ed incisivo, nell'alveo di un responsabile processo di rinnovamento.

Gianni Bugno

Dolomiti Stars: misure straordinarie per l'arrivo del Giro d'Italia
Punti di ristoro e trasferimenti in funivia.
Domenica 28 maggio, la 1a Gran Fondo Giro d'Italia - Dolomiti Stars
23 maggio 2006 - In occasione dell'arrivo del Giro d'Italia a Falcade-Passo San Pellegrino, in programma venerdì 26 maggio, Dolomiti Stars dispiegherà una serie di "misure straordinarie" per gestire al meglio il consistente afflusso di pubblico atteso sul percorso.
Sin dalle primissime ore del mattino, la strada che dall'abitato di Falcade conduce al Passo San Pellegrino sarà chiusa ai mezzi non autorizzati. Lungo la salita finale della 19a tappa, verranno allestiti da parte delle organizzazioni locali diversi punti di ristoro.
Per tutta la giornata sarà aperta al pubblico la funivia che dal passo San Pellegrino conduce al Col Margherita, a 2.520 metri di quota. Dalla cima si gode una vista impagabile della catena delle Dolomiti bellunesi: le inconfondibili Pale di S. Martino, il Monte Civetta e il Monte Pelmo sono alcune delle vette che al tramonto si colorano di rosa per uno spettacolo di impareggiabile bellezza.
Nei prossimi giorni l'area Dolomiti Stars si prepara ad accogliere migliaia di appassionati di ciclismo, richiamati dal Giro d'Italia e dalla prima edizione della Gran Fondo Giro d'Italia - Dolomiti Stars. L'evento cicloamatoriale si correrà domenica 28 maggio sulle stesse strade percorse poche ore prima dai professionisti. Nella tappa di venerdì i corridori attraverseranno la cittadina di Arabba, località di partenza e arrivo della granfondo: a distanza di quarantotto ore, sotto il medesimo arco, saranno i cicloamatori a lanciarsi alla conquista delle montagne Dolomiti Stars.