COMUNICATI STAMPA DALLA CORSA

GIRO D'ITALIA. 15° TAPPA. BERTAGNOLLI S'IMPONE NELLA FORLI - FAENZA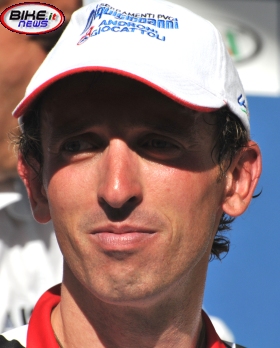 Seconda vittoria di tappa per la Diquigiovanni – Androni nel Giro d'Italia del Centenario.
Ad incrementare il bottino della squadra italo-venezuelana ci pensa l'ultimo acquisto Leonardo Bertagnolli, unitosi al Team diretto da Savio proprio alle porte della corsa rosa. Una lunga fuga anima la quindicesima tappa, Forlì – Faenza di 161 km; tra i 16 fuggitivi sono attivi il colombiano Serpa ed il trentino Bertagnolli. Al termine delle 6 cime di giornata, Leonardo vince in solitaria sul traguardo in Piazza del Popolo. Nota dolente di giornata il distacco di Gilberto Simoni. Giornata no per lo scalatore trentino. Domani la Pergola – Monte Petrano, altra tappa dal dislivello impegnativo, proprio in casa di Michele Scarponi, l'aquila di Filottrano.


Quindicesima tappa Giro d'Italia: ottima prestazione per Marzano 5° e Bruseghin 8° in generale

Si è appena conclusa la 15° tappa del Giro d'Italia (Forlì - Faenza di 161km).
La vittoria è andata ad un coraggioso Bertagnolli che è giunto solitario sul traguardo di Faenza.
Ammirevole la gara dei nostri atleti, in modo particolare quella di Marzano che ha mostrato grande carattere nonostante la sfortuna che lo ha assalito nel finale della tappa.
Il corridore milanese della Lampre-NGC, infatti è riuscito a cogliere il giusto attimo ed a indovinare la fuga di giornata, evadendo dal gruppo dopo soli 30 km.
Marco ha però nel finale dovuto fare i conti con una caduta nella discesa del Casale e in seguito una foratura proprio sulla cima della salita del Trebbio. Nonostante questi inconvenienti è riuscito però a giungere nel gruppetto alle spalle di Bertagnolli piazzandosi al quinto posto.

Ottima anche la prova di Bruseghin che è riuscito a stare con il gruppo dei migliori, piazzandosi al traguardo in 12° posizione.

Le parole di Marzio: "oggi è stata una tappa molto difficile e tirata, sono riuscito a restare con il gruppo dei migliori salendo con il mio passo senza rispondere agli attacchi portati dagli altri corridori, dato che in finale sapevamo ci aspettava una discesa e tratti misti dove potevamo recuperare terreno".
Bruseghin oggi ha inoltre guadagnato un posto ai danni di Simoni, salendo in generale 8° a 5'26".
Sottotono la prova di Cunego che ha ceduto nel finale 1' ai migliori corridori giungendo sul traguardo con Armstrong.
Damiano ha comunque cercato con grinta di evadere dal gruppo nelle fasi iniziali della tappa, per provare a sfruttare la carta della fuga da lontano in vista di una vittoria di tappa.

temperatures soar and the racing heats up at the giro
Stage 15: Forli to Faenza, 161km/100mi
By Cathy Mehl
Hot, hot, hot and we don't just mean the weather. It certainly was blazing hot in Italy today with temperatures hovering near 33º/91ºF but the competition was heating up too as the 92nd Giro d'Italia entered the final week of racing. Racers not in the General Classification positions they hoped for were taking last opportunities to make up ground. A day-long break left one lone rider out front who managed to hold his lead all the way to the line in Faenza. Thirty-one-year -old Leonardo Bertagnolli (Serramenti Diquigiovanni) took his first Giro stage win with a big time gap to of 54-seconds to Serge Pauwels (Cervelo) and Marco Pinotti (Columbia). Race leader Denis Menchov (Rabobank) withstood a bold attack by second-place Danilo Di Luca (LPR) and kept the Maglia Rosa for another day. But it wasn't the end of the race that revealed the most—it was the form displayed by certain riders on the final two climbs that showed this Giro is far from over.
Many attacks came in the early part of the stage but none were successful until a group of 16 finally stayed away after 30km of racing. Riding with Bertagnolli were Team Astana's Dani Navarro, Pinotti, Pauwels, and Lars Ytting Bak of Saxo Bank among others. The group built a strong 6.20 advantage while Rabobank kept pace in the peloton, aided by LPR throughout the stage.
At 40km to go on the Cat. 3 Monte Casale climb, Ivan Basso (Liquigas) worked off the efforts of his team and attacked, making his first decisive move in his comeback Giro. Initially Menchov and Di Luca responded. Then Basso went again, this time with Stefano Garzelli (Acqua e Sapone) quick to follow and no one else! The duo rode at a fast pace, hoping to catch the remains of the original break and stay away from the Maglia Rosa group. Gain time they did, while the Menchov group struggled to find their legs to chase. Riding with Menchov were all the top contenders: Levi Leipheimer, Lance Armstrong, Yaroslav Popovych, Danilo Di Luca, Carlos Sastre (Cervelo) and all the heads of state. Once Basso hit the final climb of Monte Trebbio, he and Garzelli were still minutes behind the leaders, which had now split completely apart, leaving Bertagnolli and Pauwels the last two riding in the front before the latter sat up, perhaps on orders from the team car to wait for Sastre.
With full concentration on what Basso was up to and how much time he was gaining from his 6th place position on GC, Di Luca stopped hanging his head in pretend-exhaustion and attacked the Maglia Rosa. With Di Luca only 34 seconds behind Menchov, the Russian rider was forced to respond, and managed to catch his wheel with Sastre and Franco Pellizotti (Liquigas) also able to get on terms with Di Luca. Leipheimer missed the group initially but Navarro dropped back to help and on the descent they all came back together with Basso's group still out front but by only 20 seconds. By now Basso and Garzelli had picked up two riders from the original break but their gap stayed at near 20 seconds and soon enough they sat up to wait for the others and the favorites were once again together with the Maglia Rosa. Lance and Popo were one minute behind Levi's group with Damiano Cunego (Lampre) in tow.
Behind Bertagnolli a full chase was in process, lead by Pinotti and Pauwels, but there would be no catching Bertagnolli today. It was a fine win for the Italian rider in his second Grand Tour stage win after a previous victory in the Vuelta.
After the stage Navarro explained his role in today's action with, "The plan today was for me or Andrey (Zeits) to go in a breakaway. The breakaway went further than we thought. Honestly when Bertagnolli attacked, he was too fast for me and the others. And then I preferred to stay in the group with Levi so I could help him until the end." Dani continued: "It was incredibly hot and I did a lot of effort today. I hope to recuperate tonight and be ready for tomorrow since tomorrow is such a key stage of the Giro."

Sports Director Alain Gallopin added, "The course was very hard but we never thought that we would have such a fight. The attack of Liquigas was well calculated. They had good knowledge of the course. We were ready to react but we stayed neutral." Regarding how Lance Armstrong felt on the stage Gallopin said, "I think it was a good day for Lance. We saw that he suffered at the end, but he was present the whole day, especially when the race heated up. Tactically we decided to have someone in the front. The situation showed it was a good option. I think we did a good job because when you look at what we have tomorrow it was perfect that we could economize our forces today."
Everything about Monday's stage 16 is big. The mileage is 237km, the climbs are huge and the final uphill climb to Monte Petrano may decide who wins or loses the centenary edition of this year's Giro d'Italia. Gallopin says, "In my eyes tomorrow will be the most difficult stage of the Giro because of the elevation and the various tactics we will see. We will be ready. The only thing that worries me is that today Di Luca showed that he is very strong. We also saw that Menchov found some allies so we have to be attentive." Levi added, "(The race) Already exploded and tomorrow is the hard day!" Oh yes, we love the hard days!

Concurrenten zetten Menchov in de luwteDenis Menchov geeft geen krimp bij aanvallen van Basso en Di Luca
In de vijftiende etappe van de Giro kreeg klassementsleider Denis Menchov de eerste serieuze aanval op de roze trui te verwerken. Ivan
Basso
en Stefano
Garzelli
namen tot bijna anderhalve minuut voorsprong, maar de Russische kopman van de Raboploeg bleef rustig en had in Danilo
Di Luca
, Carlos
Sastre
en Levi
Leipheimer
voldoende bondgenoten om de schade te herstellen. Leonardo Bertagnolli won als laatste overlever van een kopgroep van veertien de etappe.
Het was wel onverwacht spannend. Lange tijd leek het erop, dat de Raboploeg in de achtervolging op de veertien vluchters alles goed onder controle had. Menchov was goed omringd. Ondanks het toch niet bepaald gemakkelijke profiel van de rit had hij aan de voet van de voorlaatste beklimming nog altijd zijn zeven resterende ploegmaats bij zich. De helpers kregen het echter zwaar toen de ploeg van Ivan Basso het commando overname en het tempo stevig opvoerde. Een voor een vielen ze weg. Alleen Menchov en Ten Dam bleven over.
plaatste vervolgens een paar aanvallen. "Eenmaal reageerde Denis en eenmaal Di Luca. Bij de derde demarrage bleven ze beiden zitten. Denis kon wel, maar je hoeft toch niet voortdurend te blijven reageren op iemand die drie minuten achter staat? Bovendien was het nog ver." Ploegleider Erik Breukink raakte niet van de kook in zijn volwagen. "Ik heb nooit het gevoel gehad dat het link zou worden. Ook niet toen Danilo Di Luca aanviel of toen Laurens lek reed. Dat was wel een jammerlijk moment, want een mannetje bij je kopman is toch wel een stuk prettiger."
Voldoende mankracht
Menchov en Breukink kregen gelijk. Er was nog voldoende mankracht over achter Basso en Garzelli om de twee aanvallers tot de orde te roepen. Menchov had even steun van Laurens ten Dam, tot die met een lekke band terug Basso moest. Maar ook Carlos Sastre, Danilo di Luca en Levi Leipheimer staken een helpende hand toe. De rozetruidrager kon weer in de luwte blijven. "Het mooie is, dat Denis bij alle schermutselingen van de afgelopen twee dagen geen nodeloze energie heeft verspild. Voorlopig verloopt de Giro voor ons volgens het boekje", lachte Breukink.
Of dat maandag nog zo is, moeten we afwachten, vindt ook de Rabo-ploegleider. "Ik denk dat de etappe van maandag tot de belangrijkste rit van deze Giro kan uitgroeien. In de finale gaat het alleen maar omhoog en omlaag en de aankomst is op een serieuze en zware col. Denis is goed, maar de concurrentie is dat ook. Ze zijn heel erg aan elkaar gewaagd. Di Luca toont dagelijks aan, dat er nog geen sleet op zit. Sastre wordt zelfs beter. Leipheimer op het punt van breken? Dat geloof ik niet. Dat is een taaie. Hij gaat er dan wel af, maar komt altijd weer terug. We zijn nog niet van hem af."


24-May-2009: A disappointing day for all in the Giro.
The 15th stage of the Giro started well for the Cervélo TestTeam. "The mandate was clear," said Sports Director Jean-Paul van Poppel. "Make the race hard, go in the breakaways and get somebody in the break who could help Carlos at the end. Same strategy as yesterday. Today the boys did well again, we had Serge in the breakaway 16 km from the start and he did a marvellous job, ending up with Bertagnolli at the top of the last climb.
At that time, Basso had escaped and Carlos asked Serge to wait. Of course this is something that happens hundreds of times a year in cycling, nothing special. In fact, a little earlier Basso had his teammate Stangelj drop back from Serge's breakaway to help him. Maybe Serge didn't understand, but we let him know a couple of times that he really had to wait. Unfortunately Serge didn't stop at the top of the last climb, as he was told. If he had done that, he would have rejoined the Sastre group while it was still 40 seconds behind Basso and it would have made perfect sense. Now what happened was that Sastre's group gets closer to Basso's group even without the help of Serge.
Instead he slowed down at the bottom of the hill, and by that time it wasn't necessary anymore as the Basso group had been caught already, so it looked silly. Of course, looking back it's easy to say that if Serge doesn't get called back he may win the stage, and he certainly looked to have the strength to do that, but at the time the call was made Carlos really thought he needed the help. At the time Serge actually slowed down, the situation had already changed and it was no longer necessary. A tough pill to swallow for the team, especially Serge, but his time will come.


"I was so torn", explains Serge Pauwels. "I know that my job is to help Carlos, that's what I signed up for when I started this Giro. So I know that I should drop back to help him immediately when he asks, that's part of the game. But it was so difficult, because I could see that I had a chance to win this stage, and that would have been so amazing. By delaying the moment where I waited, we look pretty stupid. Lesson learned."

"It was bad timing for us," reports Jean-Paul van Poppel. "It's not easy for a small team like ours to try and put a rider on the final podium in the Giro. Sacrifices have to be made to make that happen, but everybody agreed that was our goal at the start. Of course it is easy to say that Serge deserves the chance to go for the victory, but it is also fair to say that over the past 10 years, Carlos has earned the right to have the team support him when he feels he needs it.
Today, a sacrifice was made that in retrospect wasn't needed. The whole team would have loved to see Serge win a stage, and if the final information about the Sastre group catching Basso had reached the front team car a few seconds earlier, it might all have ended differently. But that shows the highs and lows of the sport, yesterday we get a brilliant victory by Simon Gerrans, today we're the losers of the day."